Organise your busy life
Personal task management,
because
your time matters
Personal dashboard
Get visibility of all the tasks, reminders and meetings due on a particular day or week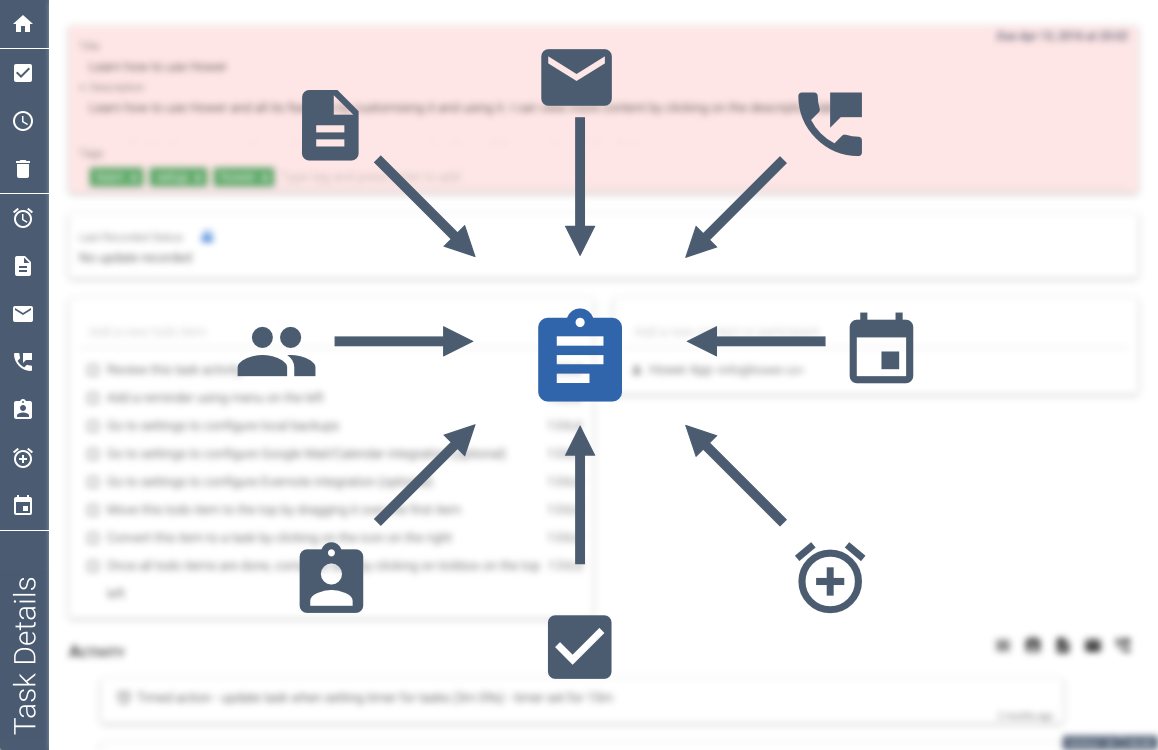 Task centric management
Record all activities against a task, set reminders, attach emails and documents, add stakeholders and contributors, schedule meetings, manage a checklist to keep track of the progress
Key features
Manage tasks organised by date or labels
Send updates to stakeholders
Add reminders to tasks or items linked to a task like emails and notes
Suitable for all types of users
Date planners
Structured planning where all tasks have a date on which they will be worked on
Theme organisers
Free flowing planning where tasks are organised by labels
Single list stackers
Work off a single todo list moving items to the top each day
Mix & Matcher
Important tasks get a date, organised backlog by themes, everything else in a todo list
Local & Secure
Stored locally
All the data is stored in your computer, not in our servers
Local Backups
Daily local backups stored for 7 days
Data backed up to GMail
When enabled, your data is backed up to GMail
Simple pricing
Complete
FREE 28-day trial
to test the benefits of Hower. There are no restrictions during the free trial and
no credit-card is required
. Hower is supplied under a subscription model that can be paid monthly or yearly.
During the pre-release period, all our beta users will receive 25% discount on the standard pricing if the paid subscription is started before the end of the beta period.
Toggle £ (GBP)/ $ (USD)
beta
Paid monthly
Renew every month
£5.00

£3.75 + VAT
25% off standard monthly pricing
beta
Paid yearly
Renew every 12 months
£50.00

£37.50 + VAT
2 months free +
25% off standard monthly pricing